Chinese QR codes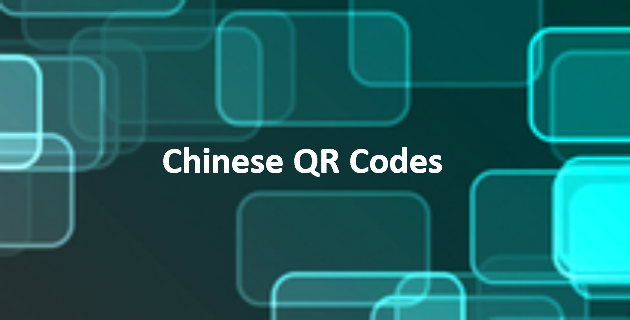 QR codes for the Chinese market check list available
QR (quick response) code is method of "bar coding" a string of data which can be used for website, email address, APP address, WeChat information, etc.
While QR codes have been available for many years, China has been using them as a replacement for the need to type more complex names in Latin character. Smart phones have a QR code scanner and social media, e.g. WeChat, have a built-in scanner.
Words and characters in our internet names are simple to an English speaker and writer. To a Chinese person this is a lot more complex, different language, different character set, etc.
QR codes have replaced URLs on business cards, market material, posted, etc.
To help the use of QR codes many of the Chinese platforms have built in QR code scanner e.g. WeChat, have built in scanner.
Here are a few examples:
| | | | |
| --- | --- | --- | --- |
| | | | |
A QR codes can be in different colours, styles, with or with logos.
Please note: The logos can only go in the middle of a QR code and therefore work best when the QR is printed big. See the third / fourth example above. 
Access to China QR codes recommendations
Create QR codes and publish them on all marketing materials and business cards, etc.
Add your QR code(s) to your home page of your company website. In China often readers / users transfer web content from desk top to mobiles. A QR code makes this straight forward.
Use different URL codes for tracking sources of business, e.g. Brochure, Business card, website.
Always check and test QR codes are working both for seeing the website and tracking system
Do not use a long URL, email address as the QR code becomes too complex and becomes harder for the QR scanner to read.
If looking to create a QR code you find many free tools for doing this on the internet. Our recommendation is

There are companies who will design and create very good QR codes for your business.
We still would recommend starting using a free tool so you get good understanding of what activated and standards / restrictions QR codes format demands, e.g. there is a limited space for your company logo in the middle of the QR code.
Please note: when creating QR code add http;// or https:// to the front of the website name, e.g. http://www.accesstochina.com or for email, mailto:support@accesstochina.com . This will enable WeChat and other social media scanner to link directly to your website / email.
.
Web page last modified: September 2018